Drew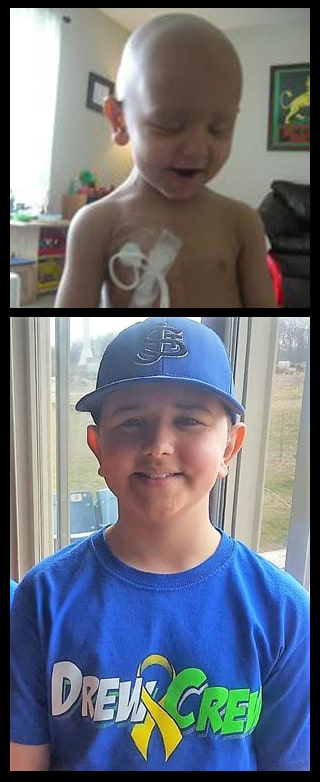 In the fall of 2007, we noticed our then 22-month-old son Drew developing a black eye. After trips to the ophthalmologist and pediatrician, we finally did a CT scan to reveal a tumor growing behind his eye. We were sent to Children's Memorial Hospital, and several more tests were done to reveal multiple tumors covering Drew's body, as well as involvement in his blood and bone marrow. Drew was diagnosed on November 6, 2007, with stage 4 neuroblastoma. He was given a 30% chance of survival.
For the next 18 months, Drew underwent five rounds of chemotherapy, three surgeries, triple stem cell transplants consisting of high-dose chemotherapy, 20 rounds of radiation, and 10 rounds of oral chemotherapy. Early in his treatment, in April 2008, Drew was officially in remission, where he remains to this day. He is a healthy, active, adventurous pre-teen with a tremendous spirit and a gentle soul! We know that he is destined to do great things.
Our family was so overwhelmed by this experience: physically, emotionally, and mentally. We welcomed our second child in the midst of the chaos; five weeks after Drew was diagnosed, he became a big brother to our son, Ben. We lived back and forth from the hospital. We relied on family and friends to help us keep up with everyday life while we focused on saving our child. But because of all of this, we know how precious and wonderful life is now. We enjoy every day and cherish the gifts that are our two sons.
An experience like childhood cancer changes you forever. You become so aware of the good and virtuous people in the world- those who remember where they have been in order to be there for others facing the same difficulties. Shortly after the end of Drew's treatment, we began involving ourselves in various childhood cancer charities, giving back to a small fraction of those who were there for us during our time of need.
We realized that, along with supporting these charities, we wanted to help other LOCAL families. During Drew's journey, we didn't know many families in the area facing our challenges, but when we did get to know some of them, it became an immediate source of hope and support. There was no one we loved talking to more than others who had been where we were headed. We wanted everyone who walked the childhood cancer path to have this same support- no matter their outcome. In this spirit, we founded the Northwest Indiana Cancer Kids Foundation, in hopes of passing on support and hope to others in Northwest Indiana and the surrounding areas who have had their lives turned upside down by childhood cancer.
To connect with Drew's family, please contact:
Northwest Indiana Cancer Kids at 219-552-1217 or info@nwicancerkids.org