Heather Serafin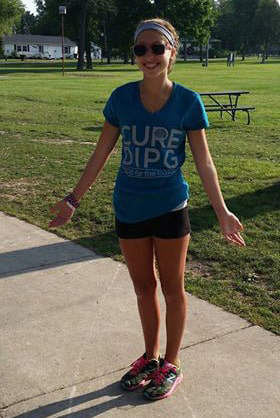 From Heather's loving mom, Beth:
"Our story is not an easy one to tell, it's tragic, but this is truthfully where everything began. October 25, 2013 at the age of 15, Heather Serafin was diagnosed with one of cancer's most ruthless forms, DIPG.
Diffuse Intrinsic Pontine Glioma is a rare cancer located in the Pons of the Brain. The Pons is the most ancient part of the brain where the automatic functions are stored. The statistics show 150-300 children are diagnosed per year. That is far too many to hear "There is nothing that can be done. Make memories, your child has 3-9 months to live!"
Just 3 months before Heather's diagnosis she completed a mud-a-thon, several 5K, P90X, and had an amazing summer. Heather started school and then her left eye began to turn in.
She began to experience sharp pains in her head that seemed to come from nowhere. She was still working out doing normal kid stuff every day, yet losing her vision to diplopia. We were all dumbfounded. How can someone in such good shape and so young have a terminal illness?
It absolutely beyond a shadow of a doubt, horrific. DIPG has a 0% survival rate! It is incredibly resistant to any treatment that has been tried. This is the same disease that took Neil Armstrong's (Astronaut) daughter in 1962. The treatment has not changed!
Throughout Heather's fight, we found how little funding for research there has been. Less than 4% of research dollars goes to Pediatric Cancers.
In August of 2015, The H Life began at a small festival in Portage, Indiana. Heather was present at The H Life's first booth and was its biggest cheerleader.
Unfortunately, her health continued to decline. Heather never once lost Faith or Hope. We tried every type of experimental, holistic, and medical treatment that we could. She was an intense fighter.
On October 25, 2015 at the young age of 17 she passed away.
Heather was an inspiration to every person that she met. In the short amount of time she was here, she made a serious impact. We took a brief hiatus after she passed, and now The H Life has been relaunched and reinvigorated.
Our goal is to help fight and fund the battle against pediatric brain tumors. We spread positive messages and make cool things to raise funds for research teams and families fighting the fight. Our primary focus in this group is DIPG. However, we will also help families and research for other types of pediatric brain cancer as we are able."